Published On
Who is Adin Ross? YouTuber's video getting tricked into see Naomi Ross's explicit picture go viral
Adin Ross lost his calm when he was in the middle of his live streaming and suddenly his sister Naomi Ross's leaked video and picture flashed on his screens
Author :
Ujjwal Samrat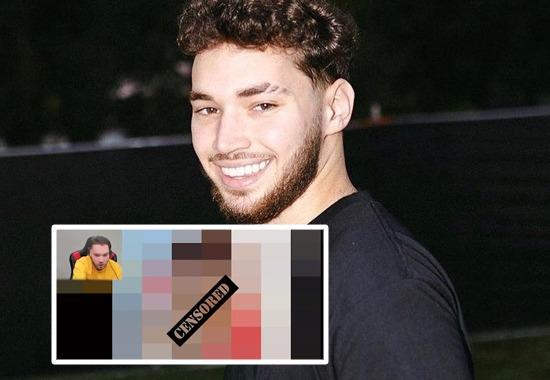 American YouTuber and live streamer Adin Ross has been embroiled in a major controversy after he was tricked to look at his sister Naomi Ross's leaked video while he was streaming. Adin Ross lost his calm when he was in the middle of his live streaming and suddenly his sister Naomi Ross's leaked video and picture flashed on his screens. For the unversed, readers should note that the sister in question has an OF and the streamer has been trolled for it in the past. Adin angrily lashed out at viewers, saying he did not find the joke to be funny. While most took that as confirmation that the adult picture that he was duped into watching belonged to his sister, Naomi Ross denied the claim on her latest IG story. She shared a story from another Instagram user named @isabelle.eleanore, who claimed that the picture belonged to her. Isabelle's original story also has a caption that claims that the picture belongs to her and not Naomi. The influencer called on her followers to comment on a No Jumper post claiming otherwise. "Everyone go comment on this post and tell them that it was actually my photo on the stream!"
Now, the question arises who is Adin Ross? To know continue reading-
Adin Ross was tricked by viewers to look at his naked sister. Do y'all think his viewers are taking it too far? 🫤pic.twitter.com/kibwCOkzeb

— No Jumper (@nojumper) March 28, 2023
Who is Adin Ross?
Lolita the killer whale to be freed from Florida aquarium; Americans divided over the decision
Adin Ross the brother of Naomi Ross, His full name is Adin David Ross, and he was born on 11 October 2000 in Boca Raton, Florida, U.S. He and his sister live in Sunrise, Florida, U.S. He is one of the most popular youtube. He is one of the best game live streamers. He started his journey on youtube in 2014 and now he has more than 3.55 Million subscribers on his Youtube channel. And after that, he started his Twitch Journey in 2019, He has more than 7.2 Million followers on his Twitch account. After that, he joined the NBA 2K and he gained so much popularity. After some time he got banned from Twitch on 25th March 2023.
Recently a naked video of Naomi got leaked on the internet. And she is in the headline of every social media platform. So people are saying that she has leaked this video purposely to gain attention. The new thing, in this case, is that some people on the internet are sharing some fake edited videos on the internet and they are saying that Naomi used to share a lot of adult videos on the internet. Police are currently finding those people who have shared those fake videos.